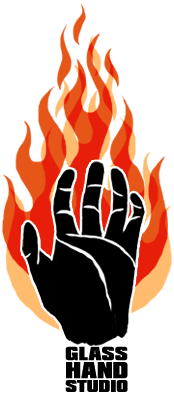 Glass Hand Studio is a public access glass blowing studio. Our goal is to provide a comfortable and well-equipped studio space where you can create glass art.
We provide:
Studio rental for glass blowing.
Private classes to small groups and individuals, regardless of skill level.
Hand made and custom glass sales.
Upcoming Events
2nd Fridays Art Walk (ongoing)
the second Friday of every month from 6pm to 10pm.
We have a variety of glassblowing activities on these Fridays. We always have demonstrations, sometimes we will invite you to participate in a project, or we may help you make something of your own. It's always free and it's always fun.
Rental Rates
Studio rental: $45/hr | 3 hour minimum
Standard shop tools, equipment, and resources included.
Private Classes
Private classes are by appointment only. Almost any time of the day or week is possible if the time is not already booked.
Introductory Class: $100 per person
An introductory private lesson in which you will create an object of your choosing. These classes take approximately one hour per person.
On-going Tutoring: $60/hour
For those who want to explore and increase their skills in weekly classes
Group Classes
Group classes are scheduled throughout the year. The class size is limited.
Refresher: A one session class to introduce you to glass blowing.
Glass 0: Two sessions to introduce you to glass blowing. A preparatory class for Glass 1
Glass 1: A five session basic glassblowing class
Learn more about the classes we offer, what to expect, and how to prepare on the Classes Page.
Custom events can also be arranged. Party? Team-building event? Call (415) 260-8590 or email to reserve your time today!
We're happy to answer your questions or help with a project. Call us at (415) 260-8590, email us or drop by to learn more.